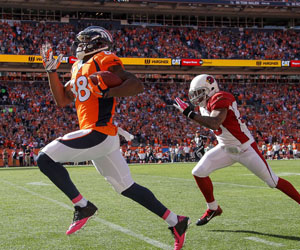 Underdogs may be the way to bet the NFL season so far, but wagering on the Over or the Under has never been tougher. Heading into Sunday's Week 7 action, pro football games have been nearly 50/50 when it comes to totals results.
However, if you followed these four teams, you would find solid value either betting the Over or the Under. We look at the best expert sports betting picks in the NFL and whether those trends will stick around this Sunday and beyond.
Top Over Bets
Indianapolis Colts (5-1 Over/Under)
The Colts were supposed to be a mess without Andrew Luck under center. And for the most part, it has been – ranked just 21st in the league at 19.8 points per game. However, with oddsmakers discounting the Colts for their missing star quarterback, backup Jacoby Brissett has helped Indy averaged more than 24 points over its last four games.
Like all good Over bets, there is another side to the story. The Colts defense has done its part for Over backers by doing very little to slow down opponents. Indianapolis is allowing foes an average of 32.5 points – dead last in the NFL – on 410 yards per game. The Week 7 odds has the Colts' total at 43.5 points, hosting Jacksonville. The Jaguars have a very stingy defense, so there could be value in going against this trend with the Under. That could hold up in the coming weeks as well, with defensive powers like Cincinnati, Houston and Pittsburgh on the schedule.
Los Angeles Rams (5-1 Over/Under)
The Rams exploded out of the gates with a very balanced attack on offense, getting tremendous production from running back Todd Gurley and second-year quarterback Jared Goff – all sparked by new head coach Sean McVay and his playbook. Los Angeles is averaging 29.8 points per game – tops in the NFL – but that seems to be slowing down. Goff hasn't been as sharp the past two games and opposing defenses are starting to get more tape on the new-look Rams.
On top of that, L.A.'s defense is starting to come around. The stop unit has always been the strength of this franchise but didn't look like it in the first chunk of schedule. The last two weeks, the Rams have given up just 16 and 17 points with eight sacks and three interceptions. Los Angeles faces the Cardinals across the pond in London Sunday, with the total at 45.5 points. Following that game, L.A. is on a bye week before playing the offensively-shattered New York Giants in Week 9.
Top Under Bets
Pittsburgh Steelers (0-6 Over/Under)
What do you get when you have an underperforming offense and a overperforming defense? Pure gold for Under backers, that's what. The Steelers' scoring attack hasn't looked right all season, averaging under 20 points per contest. Pittsburgh is picking up touchdowns on only half of its trips inside the red zone and top weapons LeVeon Bell hasn't been consistent enough week-to-week to alter the oddsmakers' opinion.
The defense has tried to pick up the slack, giving up only 17 points per outing and shutting down opposing passers to just 153.5 yards per game and a QB rating of 72.2 – ranked fifth lowest in the NFL. The Steelers are pegged for a low-scoring AFC North grudge match with the Bengals this Sunday, with the total at 40.5 points. Beyond that game, Pittsburgh bookends a bye in Week 9 with a pair of road games at Detroit and Indianapolis – two teams that should concede points and flip this trend on its ear.
Miami Dolphins (0-5 Over/Under)
Thanks to Hurricane Irma, the Dolphins had their Week 1 meeting with Tampa Bay bumped to Week 11 – when the team was supposed to be enjoying a bye week. Instead, the Dolphins started the season late and have stayed below the number in all five of those games thanks to a pop-gun attack on offense and a defense that has performed well against less-than-elite competition.
Miami is allowing only 16.8 points per game but have faced such anemic offenses as the Chargers, Jets, Tennessee and – surprisingly – the Falcons. That's not to take away anything from the Fins, but those teams passed all over the place for 235 yards per game – 21st in the NFL – and the schedule only gets tougher. Miami does have an opportunity to play Under again in Week 7, with a home date against the Jets and a total of 38 points. But there are better offenses on the horizon, including two meetings with the Patriots.