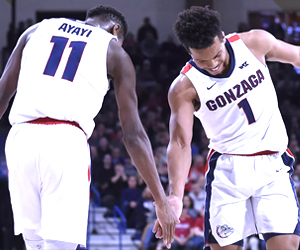 College basketball totals are tough for everyone involved, books and bettors. When oddsmakers have to set hundreds and hundreds of Over/Under lines for NCAA basketball action each week, occasionally a few mistakes will sneak through the cracks,
However, when it comes to these teams, the best online betting sites can't go higher enough or low enough to keep them from trending one way or the other. Here are the best Over and Under bets in college hoops.
New Orleans Privateers (7-16 SU, 15-3-1 O/U)
Tucked away at the bottom of the Southland Conference, the Privateers have been consistently cashing in for Over bettors. And there's a reason New Orleans is near the bottom, giving up 80.5 points per game to opponents. That lack of defensive intensity coupled with a Privateers offense producing 70 points in rebuttal, has finished below the total just one time since Dec. 18.
Perhaps New Orleans greatest strength on the offensive end is getting the foul line and making those free throws count, averaging almost 22 foul shots per game and shooting a collective 77.2% – ranked 18th in the country. That's plenty of scoring with the clock stopped – a recipe for Over results.
Sacramento State Hornets (12-10 SU, 4-16-0 O/U)
The Hornets run one of the most methodical paces on offense, making them a winner for Under bettors this season. Sacramento State averages just 60.5 points per game, averaging just 65 possessions per game and posting an adjusted tempo ranked seventh slowest in the country. That pace has paid dividends on defense.
Opponents are averaging only 58 points per game – third lowest points allowed in the country – while being limited to 40.2% shooting from the field. Those numbers haven't stopped Sacramento State front sinking to the bottom of the Big Sky Conference, where it has just one win in its last five games. Totals keep ticking down, placed in the mid-120's most nights, which has seen some Over results bubble up more often in the past month.
Gonzaga Bulldogs (25-1 SU, 21-5 O/U)
The No. 2 team in the nation is also one of its best Over bets, topping the total 80% of the time this season. Gonzaga leads the country in scoring, putting up over 88 points per game on 51.7% shooting, including a 3-point attack that knocks down eight triples per outing on 39% shooting from beyond the arc.
The Bulldogs are solid defensively, allowing just 67 points against per game, but the level of competition in the WCC isn't that deep and the Zags have been creeping into the 90s and even crossing the one hundred-point mark during conference play. In fact, Gonzaga hasn't gone Under a total since Jan. 9 – a streak of eight straight Over paydays heading into this week's matchup at Pepperdine, a team that's 15-9-1 O/U on the year.