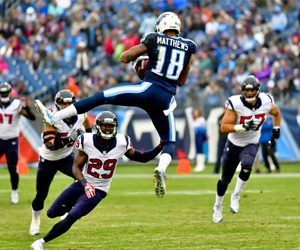 The great thing about a postseason tournament is that anything can happen once a team gets in. And, while the NFL has its favorites to win the Super Bowl, like New England, there is value hiding with some playoff-bound teams to at least win their conference championship.
Here is one of our 
sports betting articles
 about the four teams worth a flyer to win either the NFC Championship or AFC Championship this month:
Atlanta Falcons (+1,000 to win NFC Championship)
The Falcons squeaked into the playoffs with the Week 17 win over Carolina. Atlanta was far from its dominance of last season, when it cruised to the NFC title and a spot in the Super Bowl, but this team could be finding its form at the right time. Atlanta has won three of its last four games and has plenty of big-game experience on this roster. The Falcons are in a good spot heading to L.A. to play a young and inexperienced Rams teams. Should the big stage be too much for Los Angeles, Atlanta could suddenly be the team to beat in the NFC for the second round.
Kansas City Chiefs (+900 to win AFC Championship)
The Chiefs looked like Super Bowl contenders when they opened the season on a five-game winning streak, including a blowout win over New England in the season opener. Kansas City struggled through the middle of the schedule, but caught fire in the back end of the calendar. It takes a four-game winning streak into a Wild Card home game against Tennessee. The Chiefs defense has allowed an average of just over 16 points during that winning streak while putting up 28 points for per game. Kansas City has shown an ability to score at any points in the game – offense, defense, and special teams – and looks like a team no one wants to play right now. They are a steal at 9/1 odds to win the AFC title game.
Carolina Panthers (+1,500 to win NFC Championship)
The Panthers are getting discounted for a loss in the season finale, but did have a chance of winning the NFC South and hosting a playoff game in the Wild Card – instead visiting New Orleans as 6-point underdogs Sunday. Before that loss in Week 17, Carolina had won three in a row and seven of its last eight games, boasting a 5-3 ATS mark in that span. This is a very good defense, allowing only 20.4 points on 317 yards against per game, and has a tremendous pass rush that finished with 50 sacks on the season. On offense, the Panthers will need all their weapons to show up if they are to stun the NFC side of the bracket. When everything is clicking, this offense is a handful and averaged almost 31 points from Week 10 to Week 16. Carolina lost twice to the Saints this season but it is very tough to beat an opponent – especially a divisional foe – three times in one year.
Tennessee Titans (+6,500 to win AFC Championship)
In order for the Titans to cash in as the biggest conference underdogs on the board, they need to figure out how to play on the road. Tennessee was a very good home side this season, and won a huge game over Jacksonville at home to make the playoff cut, but couldn't replicate that success as a visitor. Now, the Titans find themselves at Arrowhead Stadium for a Wild Card Weekend war with the Chiefs. On paper, this team should be contending for the conference crown. The offense is loaded with weapons and the defense has plenty of talent and a good pass rush that crushed opposing QBs 43 times – fifth most in the NFL. If Tennessee can survive that trip to KC, the momentum could build behind this young and exciting team. That said, there is a good reason why the Titans are 13/2 to win the conference – and that's the trip to Kansas City.