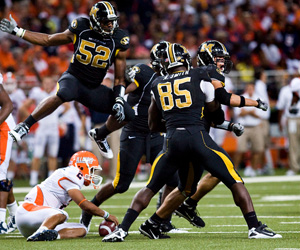 A rough patch of conference schedule or locker room turmoil can sour a bunch of young college kids on finishing strong in a lost season. And when teams go south before the end of the year, college football bettors can cash in with some expert sports betting picks against these quitters. Here are three programs that could be prematurely packing it in:

Indiana Hoosiers (4-5 SU, 4-5 ATS)
The heartbreak of a losing season hurts even more when players and fans get their expectations up early in the schedule. Indiana came out of the gates strong, winning four straight with a 3-1 ATS mark in those non-conference tuneups. However, that record was soon shown to be paper thin as the Hoosiers would stumble in Big Ten play, riding a five-game losing skid into the final three games of the season. Indiana has a shot to become bowl eligible but will need two more wins in games versus Michigan, at Maryland, and at Purdue.
California Golden Bears (5-4 SU, 4-5 ATS)
Another example of a team getting off to a hot start only to cool to ice-cold temperatures during conference play are the Golden Bears. California started the schedule with five wins in a row, then hit the wall when Pac-12 play picked up. Cal has dropped four straight with three of those contests coming on the road. The Golden Bears can still make a bowl game with another win in the final three games, but it's tough to get behind a team like this giving 21.5 points to Oregon State this weekend. Sonny Dykes has his work cut out for him when it comes to keeping his kids focused in the final month of the season.
Missouri Tigers (4-5 SU, 2-7 ATS)
Missouri's football program should be commended for their social stand against the way the university handled racially-charged incidents on campus. But now that things have settled down in Columbia following the resignation of President Tim Wolfe, head coach Gary Pinkel has to get his players refocused on football. That's tough to do when your team has lost four straight games and scored a grand total of just 25 points in those contests. Mizzou is a 5.5-point underdog playing BYU at Arrowhead Stadium Saturday, and closes out the season against Tennessee and Arkansas. A bowl game seems to be the last thing on this team's mind right now
—