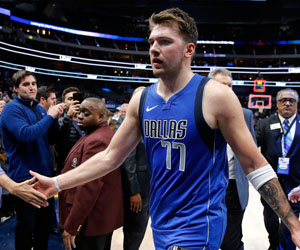 The Milwaukee Bucks stat-stuffing forward Giannis Antetokounmpo was a runaway favorite to win NBA MVP last season, taking the Bucks to the top spot in the Eastern Conference while averaging a nightly line of 27.7 points, 5.9 assists, and 12.5 rebounds.
And due to that dominating performance in 2018-19, the "Greek Freak" is back atop the NBA MVP odds this season. But while there was a big gap between Antetokounmpo and the odds for the rest of the league's elite at the start of the season, the futures market for MVP is tightening after one month of action with top sportsbooks.
Here's a look at the current favorites and sleeper picks to win MVP:
Giannis Antetokounmpo, Milwaukee Bucks +160
Back-to-back MVP winners are not as rare as you would think. Stephen Curry did it, LebBron James did it twice, Steve Nash and Tim Duncan also did it – all within the last 19 NBA seasons. Giannis is absolutely on pace for a second Most Valuable Player, outdoing his incredible stat line from last season Heading into the weekend Antetokounmpo is scoring more than 31 points a night with six assists and almost 14 rebounds per game. Milwaukee is once again among the top teams in the league and this price is warranted on one of the best two-way players in NBA history.
Luka Doncic, Dallas Mavricks +275
This is where things get interesting in the NBA MVP odds. The Mavericks second-year small forward opened the 2019-20 NBA season priced at +5,000 to win Most Valuable Player. And since then, Doncic has been on a tear. He's averaging 30.8 points, 9.9 assists and 9.6 rebounds so far – with an incredible run in November which saw the Slovenian put up 32.4/10.4/10.3 – averaging a triple-double – and leading Dallas to a 9-5 SU mark in those games. In terms of overall production, Doncic is the closest challenger to Antetokounmpo.
James Harden, Houston Rockets +400
The Rockets haven't exactly had lift off in 2019-20, sputtering in November, but not all that falls on Harden. The Beard is still pouring in the points, scoring a league-high 37.7 points per game – more than six points ahead of Antetokounmpo. Some projected Harden's numbers to dip with the addition of Russell Westbrook in the backcourt, but it has helped the sharp-shooting guard find extra space on the perimeter. He's knocking down almost five 3-point looks a night.
LeBron James, Los Angeles Lakers +600
Here's where the value starts to show up. With Giannis and Luka leading the way, LeBron is quietly going about his business in Year 2 as a Laker. James is averaging 25.7 points, a career-high 11 assists, and grabbing over seven rebounds an outing. He's got help in LA this season with Anthony Davis sharing the scoring load, but James is still the main man in Tinsel Town. His output and even demeanor on the court looks more lively compared to last year's dismal results for the Lakers. If you're shopping for MVP value, a flyer one of the NBA's greatest of all time is a solid option.
Kawhi Leonard, Los Angeles Clippers +3,000
Leonard opened the season as a +1,200 option to win MVP after leaving Toronto for the LA Clippers following his championship run with the Raptors. His contributions to the Clippers have been solid – 25 points, eight rebounds and 5.5 assists per game – but he's been in and out of action with the team playing the "load management" game with its new superstar. Leonard does have to give up touches to fellow MVP candidate Paul George (+7,500 to win MVP) but it's safe to say that one month in, we haven't seen the best of Kawhi. As the market overreacts to Antetokounmpo and Doncic, now might be a good time to scoop up the "Board Man" at this inflated price.
–