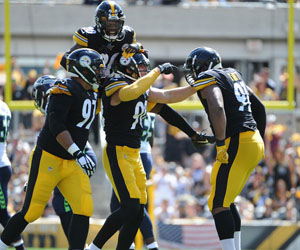 The 2019 NFL season is only two weeks old but already football bettors are picking up on some cut-and-dry trends showing up at the sportsbook. As we head into the Week 3 board, keep these outcomes in mind as you size up the NFL top sportsbooks odds.
Dogs are barking
Through two weeks of football, underdogs have had the upper hand against the spread. Teams getting the points have produced an 18-13-1 record against the spread, including a 9-7 ATS mark in Week 2.
The most potent pup in the bunch is road dog, which has an 8-5 ATS record heading into Week 3. Week 2 featured road dogs such as Tampa Bay (+6.5 at Carolina), Seattle (+4 at Pittsburgh) and San Francisco (+1 at Cincinnati) all winning outright as well as against the pointspread.
There's no shortage of road underdogs in Week 3, specifically two giant pups in Miami and New York. The Dolphins are getting 21.5 points in Dallas while the Jets are set at +22.5 visiting the New England Patriots.
Under wonders
Low-scoring football was the name of the game in Week 2, despite the abundance of penalties yards handed out. The 16-game slate finished with a 3-13 Over/Under count, with some help from injuries to quarterbacks along the way.
On the season, the Under is 20-12 – hitting at almost 63% – with an average of only 43.6 total points being scored per game. That two-week production is down from 2018's average final score of 46.6 points per game.
There are 10 teams entering Week 3 with a 0-2 Over/Under record but perhaps the most surprising are clubs like New England, Atlanta, and Green Bay – all known for their high-scoring offenses.
The Week 3 odds have some short numbers on the board, such as Thursday night's showdown between the Tennessee Titans and Jacksonville Jaguars which has a total of only 39.5 points. Chicago at Washington has a low Over/Under of 41.5 points while Denver at Green Bay currently has a 42.5-point total.
Who's the best bet?
Eight NFL teams hold 2-0 ATS records entering Week 3 but the most impressive among the bunch is the Arizona Cardinals. Arizona, pegged as one of the worst teams in the NFL entering the season, has covered in both games thanks to a surging offense and some lofty spreads working in their favor.
Arizona was a 2.5-point favorite at Detroit in Week 1 and battled back from 18 points down in the fourth quarter to force overtime and an eventual 27-27 tie game, covering the spread thanks to the comeback. In Week 2, the Cardinals got roughed up by the Baltimore Ravens as 13-point pups but still managed 17 points in limited offensive snaps.
Arizona has another shot at cashing in this week, getting 2.5 points at home against a 0-2 Carolina Panthers squad that may be without the injured Cam Newton at quarterback.
–