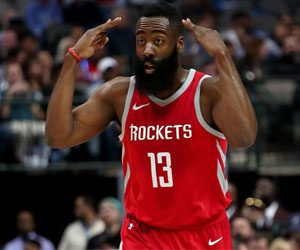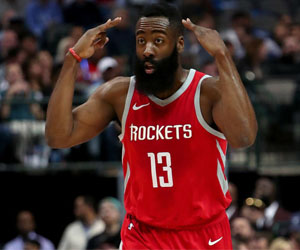 The NBA season is almost official, as teams prepare for the postseason and others pack it in with plans for the draft. But before the playoffs begin, the top talents in basketball do battle for the NBA's Most Valuable Player Award.
Just a month ago, the MVP honors were all but guaranteed to Houston Rockets shooting guard James Harden. However, other contenders have emerged during this push for the postseason, trimming Harden from -5,000 to -1,000 with about two weeks left on the schedule.
Here's one of our 
sports betting articles
 which will take a look at the favorites and perhaps a few live long shots that could edge out Harden for NBA MVP in 2018:
James Harden, Houston Rockets (-1,000)
The MVP sell isn't that hard for Harden. He's the top player on the top team in the Association and leads the NBA in scoring with 30.7 points per game. That should be enough most years. The Rockets surged to the top of the Western Conference and with Golden State limping into the playoffs, Houston could have clear sailing to the NBA Finals.
If you're looking for a knock against Harden, you've got to dig deep. First, he was gifted point guard Chris Paul this season, allowing Harden to really focus on being a scorer and not a ball handler. Second, Harden's defense is always in question – even with him averaging 1.8 steals a game. But, with the Rockets allowing only 104.2 points against a contest, we're really nitpicking here.
LeBron James, Cleveland Cavaliers (+450)
What else can be said about LeBron James? You could put James on any team in the league and they would instantly be a playoff contender – if not a contender for their conference crown. His numbers have once again been incredible, scoring almost 28 points – his highest scoring output since his final season in Cleveland before jumping to Miami in 2010. James adds 8.6 rebounds, 9.1 assists, 1.5 steals, and almost a block per game.
What could win over MVP voters is the state of the Cavaliers. This team struggled in the first two thirds of the season, then swapped out nearly its entire roster during the trade deadline. On top of that, LeBron has been carrying the team with Kevin Love missing extended time. While it might be tough to dethrone Harden, this could be James' most impressive season to date.
Anthony Davis, New Orleans Pelicans (+1,700)
When DeMarcus Cousins was lost for the season, many counted out the Pelicans in the competitive Western Conference. Then Anthony Davis took over and has carried New Orleans into a playoff spot, possibly grabbing as high as the No. 3 seed if the Pelicans can finishing with a flurry. Davis has averaged 30.2 points since the All-Star break, including 35 points per game in February, sitting second in the NBA in scoring.
Outside of his offensive contributions, Davis is one of the premier paint defenders in the league. He blocks 2.5 shots per game – changing constant others – and records 1.5 steals an outing. On the boards, he pulls down an average of 11.1 rebounds, 2.5 on the offensive glass. If he can will New Orleans up the Western Conference standings, Davis is a true contender for MVP.
Other NBA MVP contenders:
Giannis Antetokounmpo, Milwaukee Bucks (+2,500)
Kevin Durant, Golden State Warriors (+3,000)
Russell Westbrook, Oklahoma City Thunder (+4,000)
Damian Lillard, Portland Trail Blazers (+6,000)
DeMar DeRozan, Toronto Raptors (+7,500)
John Wall, Washington Wizards (+10,000)