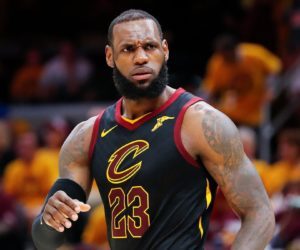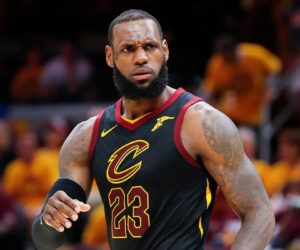 LeBron James is a once in a lifetime talent and can swing the power in the NBA from one team to another with his upcoming free agency decision. Much like his recent "Decisions" in 2010 and 2014, there is a storm of rumors and reports, but a handful of clubs have bubbled up on LeBron's likely short list.
Here's a look at those teams and what their NBA futures odds from the  best online betting sites looks like for the 2018-19 NBA season:
Los Angeles Lakers +550
The Lakers, a team that won 35 games and finished 43-39 against the spread, are the second overall favorite to win the NBA Championship next season. Just let that sink in. Los Angeles has yet to land LeBron – or any other big-name free agent needed to lure the King to La-La Land – yet L.A. is the second overall favorite…
The LeBron free agent props do have the Lakers pegged as -250 front runners to sign James, and the rumor wires exploded this weekend when James' private jet landed in Los Angeles. So, we can understand why bookies are playing it safe. But, this is a great time to grab some teams like Boston at +600 and Houston at +1,000, who have a good shot of winning the title without LeBron, in the futures book.
Philadelphia 76ers +1,500
The Sixers have one of the better roster setups for LeBron, with a bevvy of young talent emerging last season and making Philadelphia one of the teams to watch in the Eastern Conference. Ben Simmons and Joel Embiid would complement James' versatile style of play and could absorb all that basketball knowledge for one of the most cerebral players ever.
The 76ers are +350 to sign LeBron this summer, and wouldn't need to lure in any other notable free agents like Paul George or Kawhi Leonard. That said, there's still no guarantee Philly would win the title – let alone the Eastern Conference crown – with Boston healthy and hungry next year.
Miami Heat +7,500
The Heat won 44 games with a rag-tag bunch of players, topping the Southeast Division, and could welcome LeBron back with open arms. But they'll need to scratch together a boat-load of money if LeBron is after dollars.
James turned down $35.4 million from the Cavaliers and the Heat would need to trim $55 million from their books to even make a run at the King. Yet, despite that math, Miami sits next to squads like New Orleans, San Antonio, and Toronto in the futures market.
Washington Wizards +8,000
A sharp-shooting backcourt of John Wall and Bradley Beal seem like a good fit for LeBron in the nation's capital, and the Wizards have been talked about as a possible destination for James. It might also serve as a platform for LeBron's political inspirations, having gone toe-to-toe with political pundits and helped campaign for the Democrats during the presidential election. Another note: LeBron and Wall have the same agent and work out with each other quite often.
Golden State Warriors +140
If you can't beat them, join them. Kevin Durant did it, jumping ship from Oklahoma City to Golden State, and with Durant's contract up in the air in Golden State – along with Draymond Green expecting a huge deal next year – the Dubs could cut their losses and bring in LeBron to fill those roles.
And let's not forget those rumors about late-night texts between Durant and James. Could the King take a pay cut to ring chase with the Warriors? We'd like to think not, but who saw Durant making the move to the Bay Area three years ago.