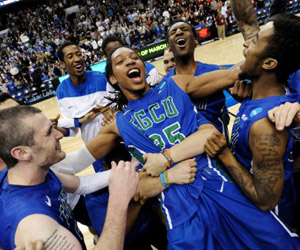 March Madness has built its reputation on those mid-major upstarts rocking the foundation of college basketball with a thrilling upset in the first four days of the NCAA tournament.
Now legendary Cinderella teams like Florida Gulf Coast, George Mason, Butler, and as recent as Middle Tennessee State knocking off Michigan State last year, have etched a spot in the memory of every fan that's filled out a bracket or bet on the tournament game.
So which little-know program will shock the field during this year's Big Dance. Here are three mid-major teams capable of busting even the sharpest bracket:
Florida Gulf Coast Eagles
The Eagles made headline during the 2013 NCAA tournament, knocking off No. 2 Georgetown and No. 7 San Diego State for a berth in the Sweet 16. Florida Gulf Coast captured the attention of the nation with their up-tempo, free-wheeling style of play, earning the nickname "Dunk City". Well, after claiming the Atlantic Sun tournament title, FGCU is ready for another stunning run in the NCAA.
The Eagles can score with the best of them, averaging 79.4 points per game while shooting better than 50 percent from the floor – fifth best in the country. Florida Gulf Coast played some tough competition during non-conference play, facing Michigan State, Florida and Baylor, and enter the tournament on a hot streak after covering as a double-digit favorite in all three conference tournament tilts.
Winthrop Eagles
The Big South tournament champs can also light up the scoreboard when needed, averaging 79.7 points per game. The Eagles live and die by the 3-pointer, taking more than 43 percent of their shots from distance while knocking down 38 percent of those long-range looks. Winthrop has a deep backcourt with four capable shooters from outside, making them a very dangerous opponent in the opening rounds of the Big Dance.
The Eagles will draw a high seed in the Round of 64, and their success will all depend on how well that opponent can defend against the 3-ball. Winthrop stunned Illinois in Champaign back in November – not that big a win when you consider how bad the Big Ten has been – and also played tournament-bound teams in Florida State and Dayton during non-conference play (both losses).
Rhode Island Rams
The Rams are likely to earn an at-large as the third-best team out of the Atlantic 10, behind front runners Daytona and VCU. But that doesn't mean the Rams can't turn some heads in the postseason. This team enters the A-10 conference tournament on a red-hot five-game winning streak, with three of those victories coming on a road.
Rhode Island is a solid defensive program, allowing only 65.2 points on 40.9 percent shooting per game. The Rams have a win over VCU but did lose both meetings with Dayton, and padded their RPI with some big-name opponents in non-conference competition, including a win over Cincinnati, a loss to Duke and a loss to rival Providence. Leading scorer E.C. Matthews is an electric player who falls under the radar after missing all of last year with a knee injury.
Also, keep in mind to shop those mid-major prices at the best live odds comparison tools on the market before making a bet to maximize your win percentage.
—