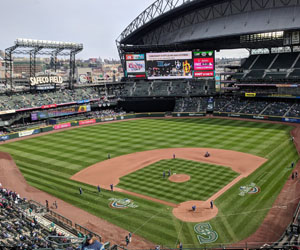 If you're trying to cash in on the MLB odds this summer, you're going to have to go deeper than the conventional baseball betting stats if you want to earn that edge over the top sportsbooks bookies. Sharp money is always hunting for that outside angle, and one of the most intriguing and often lucrative bits of info when betting MLB totals is venue.
Some ballparks are touted as "pitchers" parks while other are dubbed "hitters" parks. The deciding factor in those title is a metric known as ballpark factor, which is calculated by measuring the different rate of stats at home and away.
The real fun begins when measuring those ballpark factors against visiting competition. Baseball bettors may find hidden value in the Under when a hard-hitting club visits a "pitchers" park or will have the advantage with the Over when two offensive powers showdown in a hitter-friendly venue.
Here's a look at the most influential ballparks in the bigs when it comes to Over/Under results:
Hitter's Parks
Coors Field (1.57 ballpark factor, 1.34 home run rate, 23-14 Over/Under)
It's no surprise to see Coors Field atop the list of hitter's parks. The thin air in Colorado creates less drag on the baseball, which allows those hard hits to soar longer and further – turning routine pop flies into round trippers.
The Rockies, who call Coors Field home, are scoring an average of 6.86 runs per game while opponents are posting 6.76 runs against – a grand total of 13.62 runs per home contest. It's common practice to see totals of 11, 12 and even 13 runs for Colorado home games but that still has the Rockies cashing in for Over bettors 62% of the time.
Guaranteed Rate Field (1.65 ballpark factor, 1.29 home run rate, 19-17-1 Over/Under)
Despite the Chicago White Sox's anemic offense, the Southside Chicago ballpark ranks No. 2 in the majors in ballpark factor. Chicago is plating 4.35 runs per home stand but it's their pitching – or absence of – that has fueled the scoreboard at Guaranteed Rate Field. Opponents are hitting .270 BA and averaging 5.76 runs when visiting the ChiSox.
Pitcher's Parks
Petco Park (0.74 ballpark factor, 0.85 home run rate, 17-22-2 Over/Under)
Petco is the quintessential pitcher's park, although it ranked middle of the pack in 2018 when it came to ballpark factor. But if you're playing the averages, Petco is the place that Overs go to die.
It also helps that the San Diego Padres don't pack much pop at the plate, scoring just 3.73 runs per home game. Foes haven't faired much better, scoring just over four runs in 41 stops at Petco Park. Totals for the Padres home stands usually bounce between 7 and 8 runs.
Target Field (0.76 ballpark factor, 0.69 home runs rate, 15-20-2 Over/Under)
Target Field is the Bermuda Triangle of ballparks, with some strange things afoot. It ranks dead last in home run rate in the American League and third lowest in the entire major leagues – yet the Twins lead the bigs in total home runs hit.
Minnesota has hit just 59 of its total 146 dingers at home – only 40% – while opponents managed only 34 homers at Target Field. Those contrasting results have the Twins blowing through totals on the road, with a 24-12-3 Over/Under record as visitors.
–