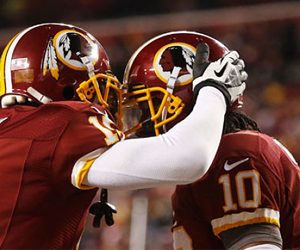 It's tough not to overreact to early season results in the NFL. But numbers don't lie: Since 1990, only 26 of the 212 teams that started the year with two straight losses have gone on to make the playoffs. With that in mind, there are plenty of teams that can either make or break their seasons depending on how the Week 2 results trickle down. For more information on the current betting lines click here for a live odds comparison.
New Orleans Saints at New York Giants (-4.5)
The Saints are reeling from a devastating loss to the Oakland Raiders in Week 1, losing the game on a 2-point conversion despite Drew Brees passing for 423 yards and four touchdowns in a 35-34 shootout at home. New Orleans runs the risk of starting 0-2 when it travels to MetLife Stadium to take on the Giants' revamped defense Sunday. New York snuck out a 1-point win in Dallas and limited the Cowboys to field goals instead of touchdowns for most of the game. Topping this team is no easy task for the Saints, who opened as 5-point pups but have since been bet down to +4.5.
Indianapolis Colts at Denver Broncos (-6)
The clock is ticking on the Colts. Indianapolis dropped a season opener to Detroit, allowing the Lions to score 39 points without a proven https://tramadolhealth.com running game or the retired Calvin Johnson. The Colts are feeling pressure from the rest of the AFC South and a trip to the thin air of Sports Authority Field to face the defending Super Bowl champs comes at a terrible time. Denver is riding high after knocking off Carolina in the season opener, quieting doubters with steady play from QB Trevor Siemian and tremendous defense. The Colts' inexperienced offensive line has its hands full with the likes of Von Miller, and are sizable road dogs in Denver.
Dallas Cowboys at Washington Redskins (-2.5)
While both of these NFC East members run the risk of dropping to 0-2 with a loss in Week 2, the Redskins are under far more pressure to perform given Dallas' QB situation and the fact they got trucked by the Steelers on national TV. Washington is the defending division champ and, believe it or not, was just a 2-point underdog hosting Pittsburgh Monday. The Redskins defense gave up 435 yards, with little answers on the ground or in the air. And the offense sputtered with just 16 points and two interceptions from Kirk Cousins. The Cowboys have some weapons on offense but don't put up much resistance on defense, so there should be no excuses for the Redskins in Week 2.