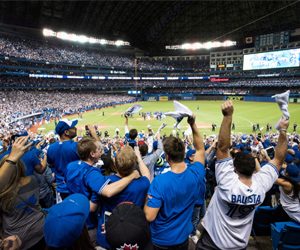 All bettors love a little extra motivation behind their wagers and nothing puts the push on teams like fighting for a ticket to the postseason. Divisional leaders are beginning to clinch their playoff spots but there is plenty of jockeying in the Wild Card standings heading into the final two weeks of the season.
Here are some free sports betting picks on a few teams baseball bettors may want to get behind during this sprint to the finish line:
Toronto Blue Jays (+1,000 to win World Series)
Toronto heads into the weekend winning three of its last four, including a huge 9-0 shutout of the New York Yankees Friday night. That game was the Jays' first time back in the Rogers Centre after a seven-game West Coast run and opened a seven-game home stand versus New York and Baltimore. Toronto is 5.5 games back of the Red Sox for the division lead and top the American League Wild Card standings, one game up on the Tigers and 1.5 ahead of Baltimore. The Blue Jays are 43-32 at home, so look to take advantage of them while they're north of the border.
St. Louis Cardinals (+2,500)
The Cardinals are lurking in the National League Wild Card standings, just half a game back. And you can be sure the rival Cubs are holding their breath when it comes to St. Louis' postseason hopes. The Cardinals are currently at Wrigley Field, having dropped Game 1 of that series 5-0 Friday. However, this Cardinals team finishes the year with seven straight games at home, hosting the Red and Pirates. While their pitching hasn't been as sharp in September, the Cards can crush the ball and have a steady bullpen to pull from.
Seattle Mariners (+2,500)
The Mariners are a bit of a long shot to make the postseason, given that they're two games out. However, Seattle has some cupcakes on the schedule ahead, including its current series with the Twins and a season-ending home set versus the Athletics. Sandwiched in between is a road trip to Houston to play the Astros. The M's have won back-to-back games heading into the weekend while the Astros have lost two in a row. Houston could be out of the picture by the time these AL West rivals meet, giving more value to Seattle.