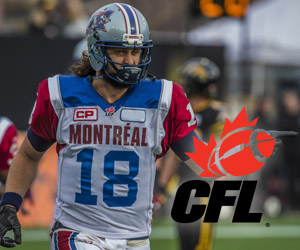 NFL regular season football is still almost two months away and college football doesn't start until the end of August, leaving pigskin bettors to slowly count the minutes till kickoff during the dog days of summer.
Should you need your football fix, however, all you need to do it look north. The Canadian Football League may use some zany rules and have a shallower talent pool, but there's no denying that three-down football is entertaining – even more so when you've got some money riding on the game.
If you haven't paid attention to the CFL at all, no worries. The season is only a few weeks old but there have already been some profitable betting trends showing up. Here's what to look for at the top sportsbooks:
Road warriors
Entering Week 5 of the CFL schedule, road teams have dominated the landscape boasting a 12-3-1 SU record and 14-2 ATS mark. Grabbing the away side's spread has blindly paid out at an almost 88 percent clip, but the real money would have been in betting the road team straight up on the moneyline. Two of the four road teams are favorites this week, with Calgary and Ottawa giving the points at Winnipeg and Saskatchewan, respectively.
Underdogs
Tying into the road team trend is ATS underdogs. CFL teams taking the points are 11-4 (one game closed pick'em) against the spread, covering 73 percent of the time. Road dogs have made up a good chunk of those profits, with a 10-1 ATS record.
The BC Lions have covered as underdogs in three of their four games, but don't see action in Week 5. The Winnipeg Bluebombers are getting five points at home to Calgary, the Saskatchewan Roughriders are +5.5 hosting Ottawa, the Hamilton Ti-Cats are +4.5 at Edmonton, and the Montreal Alouettes are 6-point dogs at Toronto.
Unders
Maybe it's some early-season offensive rust or oddsmakers overvaluing what is generally a high-scoring league, but the Under has been a lucrative 10-5-1 through the first four weeks of the CFL schedule. That means CFL games are staying below the total almost 67 percent of the time.
Montreal is a perfect 0-3 Over/Under in its opening trio of games while British Columbia is 1-3 O/U heading into a bye in Week 5. Only one team, the Edmonton Eskimos has played Over more than Under to start the year, with Edmonton taking a 2-1 Over/Under record into this Saturday's showdown with Hamilton.
—