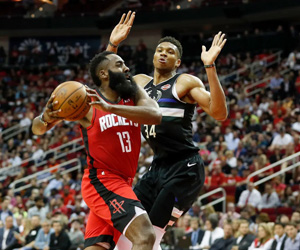 The NBA MVP race has taken a dramatic turn in recent weeks with Houston Rockets superstar James Harden throwing a little shade at reigning MVP and 2020 frontrunner Giannis Antetokounmpo of the Milwaukee Bucks. Harden disputed the "Greek Freak's" actual basketball skill and said his success is more a product of his natural gifts of size and speed.
Harden's controversial claim hasn't helped close the gap in the NBA MVP top sportsbooks odds, with Antetokounmpo still a sizeable odds-on favorite to win his second straight Most Valuable Player honor. But if you're buying into what Harden was saying, here's a look at the odds to win NBA MVP and some other "skilled" player that could take home the league's top individual honor.
Giannis Antetokounmpo, Milwaukee Bucks -950
We might as well start at the top of the board, where Giannis has a death grip on the MVP, according to oddsmakers. The Bucks do-it-all forward is having another stellar season while leading Milwaukee to the top of the Eastern Conference.
Antetokounmpo is scoring just under 30 points per game on 55% shooting from the field, which Harden would argue is easy when all you have to do is dunk the ball. However, Giannis does much more than that, leading the Bucks in assists and rebounds and rounding out his game with improve shooting beyond the arc.
LeBron James, Los Angeles Lakers +1000
LeBron is remodeling his game during his second season in Los Angeles. Since bringing on Anthony Davis to shoulder the scoring load, James has become more of a playmaker than a shot taker, averaging an NBA-best 10.7 assists per game.
That's not to say LeBron isn't putting up the point as well, scoring more than 25 a night while corralling nearly eight rebounds per game. He remains one of the best defenders in the NBA and has the Lakers on top of the Western Conference, which is a feat in its own considering how good the conference is this season.
Luka Doncic, Dallas Mavericks +1200
While LeBron's numbers are impressive, he loses a little MVP shine due to Davis backing him up. Doncic, on the other hand, is a one-man show in Dallas. He's rapidly maturing as a player in just his second season in the pros, putting up 28.5 points per game along with an average of 9.3 rebounds and 8.8 assists.
Doncic was slowed by injury in February but has kept the Mavericks competitive with a fun, high-scoring offense that has Dallas sitting seventh in the West and destined for an exciting playoff series against one of the conference's top teams. If he doesn't dethrone Antetokounmpo this season, there's still a good chance an MVP honor is in his future.
James Harden, Houston Rockets +2100
Harden did have a point in all his trash talk, at least when compared to all the work he puts into being one of the best in the NBA. Harden is a headache for opposing defenses, scoring nearly 35 points per game while shooting almost 36% from beyond the arc and collecting over 10 points per game from the foul line.
Harden has Houston currently sitting in fourth place in the Western Conference, fighting hard to keep the Utah Jazz and Oklahoma City Thunder behind the Rockets in the standings. The former 2018 NBA MVP would have to go on an epic tear in the final month of the season to leapfrog the players ahead of him on the MVP odds board and back up his statements about Antetokounmpo.