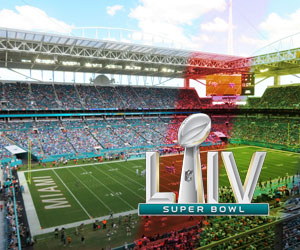 Welcome to Super Bowl betting, the biggest wagering single event of the sports betting season. Super Bowl LIV between the Kansas City Chiefs and San Francisco 49ers will have thousands of ways to get action down, but for those new to the sports gaming space the Big Game can be a bit intimidating said by sports betting articles.
If you're looking to place your first bet or just want a refresher on the betting basics, we're taking you to school on the most popular ways to wager on Super Sunday.
What is the pointspread?
Because not all teams are on equal ground, with some better than others, oddsmakers generate a handicap for the better team based on the points they're expected to win the game by – or the pointspread.
For Super Bowl LIV for example, the gap in talent between the two teams is very narrow and therefor oddsmakers have set a smaller spread between the Chiefs and 49ers, with Kansas City favored by 1.5 points.
That means that if you place a pointspread bet on KC -1.5, it needs to win by two or more points in order for your wager to win. If you bet on San Francisco +1.5, it needs to lose by less than two points or win the game outright.
What is the Over/Under?
The Over/Under or total is the combined points score by both teams in one game. Oddsmakers look at the performances of both sides and calculate an estimated final score and from there ask bettors if the final tally of both teams will be Over or Under that grand total.
The total for Super Bowl LIV is currently at 54 points, with both the 49ers and Chiefs ranking among the top scoring teams in the NFL. Bettors on the Over will win their wager if the final score equals 55 points for more while those betting the Under are hoping for a result with 53 points or less. Should the final score add up to exactly 54 points, the bet is graded as a push and all wagers are returned.
What is a prop bet?
Super Bowl is famous for its long list of prop bets or proposition bets. These types of wagers take many forms, such as "Which team will score first: 49ers or Chiefs?" or "Which player will score the first touchdown of the game?".
Much like calculating the pointspread and the total, oddsmakers analyze past results and set a price – also known as vig or juice – to place that bet. Currently, the prop bet for which team will score first has Kansas City listed at -120 and San Francisco at -110. Those numbers mean that if you bet on KC to score first, you will win $1 for every $1.20 you wager. And a bet on San Fran will return $1 for every $1.10 that is wager.
Some props, such as "Player to score the first touchdown" has a long list of options with the most probable first scorer listed at the top of the board. For Super Bowl LIV, 49ers running back Raheem Mostert is priced at -160 to score the first TD, Chiefs running back Damien Williams is at -120, Chiefs receiver Tyreek Hill is listed at even money or +100, and 49ers tight end George Kittle is set at +120.
For those players with a plus before their vig/juice, that means that if you bet Hill at +100 you could get $1 for every $1 wagers and for Kittle at +120 you would get $1.20 for every $1 wagered.