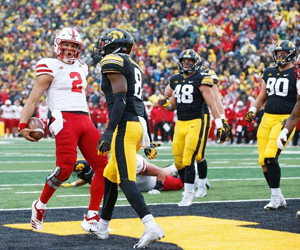 The Hawkeyes have a chance to get to the 10 win mark for the 7th time under Ferentz and still have a chance to win the Big Ten West division for the first time since 2015.
They bring a big boy defense to this game in Lincoln against a hurt and defeated Cornhuskers offense.
Iowa has been about the least impressive 9-2 team in the modern era. 25.5 points per game for the Hawks this year. Their offense has been wildly anemic. If they get a couple of turnovers, they roll teams, but if the ball doesn't hit the turf they aren't scoring enough to beat the city runner up in Cedar Rapids.
Scott Frost was about to get escorted out of the stadium earlier this year, but Nebraska has finally opened their eyes and realized that you have to be who you are, and for Nebraska, that's a middling team.
The Huskers may be able to pop into the mix from time to time, but never in the same way they did in the '80s '90s. They drug test now for steroids. Also, no Adrian Martinez for them could mean good things for them. He may be the biggest feast of famine QB we've seen!
Let's see if the new guy can avoid the calamitous interception. Nebraska can play offense a bit, but cannot stop a soul.
Nebraska hopes to stumble upon the same revelation that Iowa had https://t.co/hVwJjFU0q0 via @Tradition pic.twitter.com/MV1nqeHtGI

— Nebraska Football News (@Nebraska) November 24, 2021
Inspin.com has a



2-star pick on this game. Click here to sign up!
The INSPIN simulation model, which simulates every College Football game thousands' of times, is up +38.5 units over the last three years. We have released 388 total games with 209 WINS and 179 losses ATS for a win % of 53.87%. A $100 bettor of our NCAAF would have netted a profit of $3,850 and, a $1,000 bettor would have won $38,500 just on the College Football picks. Now is the time to sign-up and start winning.
| Title: Iowa @ Nebraska
| Author: Matt Catton
| Date: Nov 24, 2021