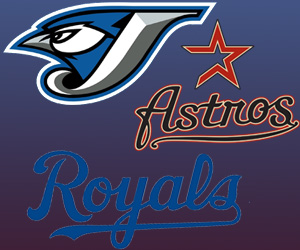 The 2015 MLB trade deadline was one to remember. Plenty of big-name players jumped to different clubs and teams desperate for a push at the playoffs stuck out their necks in hopes of landing one or two new faces to serve as catalysts for a postseason run. Here are three teams, and their World Series futures, to watch after the trade deadline:
Toronto Blue Jays (+1,000)
If there ever was a year in which the Blue Jays had a true chance of winning the American League East, 2015 is that season. With the rest of the division in a down year, Toronto stepped up with massive deals for 3B Troy Tulowitzki and starter David Price. These acquisitions, while costly when considering the prospects given up, have already had immediate impacts on the club – which is what the Jays were after anyways. Toronto was around a 20/1 long shot to win the World Series but has trimmed those odds in half with these big moves.
Kansas City Royals (+500)
After winning the AL Pennant in 2014, many expected Kansas City to suffer a bit of a letdown this summer. However, the Royals have raged on and made sure they were among the front runners to get back to the World Series with a strong showing at the deadline. Kansas City filled a gap in its rotation by getting Johnny Cueto from Cincinnati and picked up a versatile bat in Ben Zobrist. It should be noted the Royals lost three of four to the Blue Jays this past weekend in a possible ALCS preview.
Houston Astros (+1,000)
Another club taking advantage of sudden success is Houston, which stunned the AL West with a strong start to the schedule. The Astros weren't going to let that hot play fizzle and pop, and went after some big game during the deadline. Houston added outfielder Carlos Gomez and starting pitchers Mike Fiers and Scott Kazmir. The Astros opened the season as big as 60/1 to win the World Series and have watched those odds come down as low as 10/1 as the calendar flips to August.