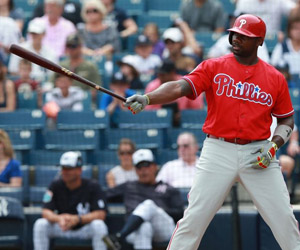 Picking up wins inside your own ballpark is all good and well, but when it comes to MLB betting at the top sportsbooks, nothing beats a feisty road side. A competitive away team will always have their moneylines discounted since they're playing on the road, so those extra units stack up quickly.
Here are three of the most profitable plays on the road this baseball season:
St. Louis Cardinals (28-16, +13.95 units)
The Cardinals have stepped up to the challenge when hitting the highway this season. If baseball bettors wagered $100 on each of their road stops, they would be up almost $1,400. St. Louis, which is only 25-30 at home, has a collective ERA of 3.72 as a visitor while hitting .267 BA and averaging almost six runs on the road – a drastic increase from the Cards' 4.5 run production inside Busch Stadium. St. Louis is currently on a 10-game road run, playing at New York, Miami and Cincinnati.
Texas Rangers (28-27, +8.02 units)
The Rangers have been big winners for baseball bettors this summer, and a good chunk of those profits have come away from home. Texas is up more than $800 in enemy territory, despite being just over .500 on the road. The Rangers are putting up just under five runs per away tilt – a slight dip from their home average – and have a 4.23 road ERA. Those are shaky numbers, and coupled with the fact that the value has been sucked out of Texas, bettors may want to tread lightly with the Rangers on the road.
Philadelphia Phillies (23-27, +7.44 units)
It's never recommended that you bet on bad teams, but if you have been wagering on the Phillies, hopefully it's been when they hit the road. Philadelphia has been much better than expected, which means cashing in some lofty plus-money odds. The pitching is promising, but it's been the offense that has made the difference. At home, the Phillies plate only 2.9 runs with a .218 BA. Away from Citizens Bank Park, Philadelphia is hitting .262 BA and averaging 4.24 runs an outing.
—