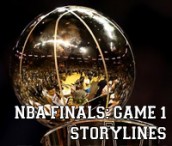 Game 1 of the NBA finals is set for Thursday night in Oakland and it will surely set the tone for the series. The Golden State Warriors are posted as a six-point favorite at sports betting sites but there are a couple of key storylines to keep in mind.
Injuries
Both teams are dealing with some nagging injuries heading into the NBA finals and we'll see just how healthy everyone is in Game 1. For the Cavs, point guard Kyrie Irving has been dealing with a leg injury but he returned for Game 4 of the Western Conference final and registered 16 points. Meanwhile, LeBron James has simply been banged up – nothing that's kept him out of the lineup – but there have been rumors of a right wrist injury.
As for the Warriors, the Splash Brothers have some bumps and bruises to monitor. Klay Thompson looks like he'll play after suffering a concussion in Game 5 of the Western Conference final while Steph Curry played in Game 5 of that series after suffering a gruesome fall in Game 4.
Everyone should be good to go but just because they are playing doesn't mean they are 100%.
Rest
Remember to factor in the protracted rest when you're deciding who to bet on in the Game 1 at sports betting sites. The Cavaliers were 4-3 against the spread and 5-2 straight up this season when playing with three or more days rest. The Cavs have also covered 13 of their last 20 in that role. Meanwhile the Warriors were 5-2 against the spread and 6-1 straight up in that situation. The under was 5-2 in those contests.
We'll see if either team is rusty after such a long layoff or whether both teams come out fresh and crisp after more than a full week off.