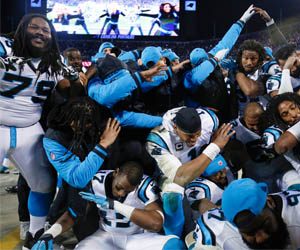 Teams perform differently at home than they do on the road. Sometimes that's a good thing for football bettors, and sometimes it isn't. We look at some NFL teams producing very different results depending on the venue. Keep these trends in mind and make sure to use our live odds comparison as the pro football season goes forward:
Good home/Bad away
Chicago Bears (4-0 ATS home/1-2 ATS road)
Chicago has been a surprise in the NFC North, putting up wins in its last two games heading into Week 8. The Bears defense has been the beating heart of this squad, allowing only 301 yards and just under 22 points per game. At home, however, those numbers are supercharged with Chicago's stop unit budging for only 15.8 points per home stand. The offense hasn't been the most potent but has gotten a lift from the defense, which has scored three times this season. Chicago is a 9-point underdog in New Orleans in Week 8.
Indianapolis Colts (3-1 ATS home/0-3 ATS road)
The Colts are sinking to the bottom of the AFC with star quarterback Andrew Luck standing on the sidelines. Indianapolis has managed an average of just 291 yards and 17 points per game – most recently getting shutout by the Jacksonville Jaguars in Week 7. On the road, those offensive efforts dwindle to 16.3 points per game while the defense gets blown away, allowing an average of 42.7 points against. That's a massive difference from the 23.5 points given up at home. The Colts are on the highway again, visiting the Bengals as 10.5-point pups in Week 8.
Minnesota Vikings (4-1 ATS home/0-2 ATS road)
Another NFC North team has used home-field advantage to fill the pockets of their betting faithful, only to drain those bankrolls with lackluster efforts on the road. Much like its division rival Chicago, Minnesota is all about the defense. The Vikings give up only 15.2 points to visitors while a patchwork offense manages 23.4 points per home game. Flip the environment, and Minnesota is putting up only 14.5 points over two road games. The Vikes are in Cleveland giving almost 10 points to the Browns in Week 8. Can they cover such a hefty spread with that poor scoring attack on the road?
Bad home/Good road
New York Giants (0-3 ATS home/3-1 ATS road)
It's been a long season for Giants backers (and we're only at the midway mark), with their home issues erasing any profits made on the road. New York has benefited from some friendly spreads as the visitor, giving value to the G-Men in games at Philadelphia, Tampa Bay and Denver. At home, the Giants have yet to pick up a victory and are giving up 25 points against while countering with only 13 points for. New York is on a bye in Week 8 and welcomes the L.A. Rams to MetLife Stadium next Sunday as probable home underdogs.
Carolina Panthers (0-3 ATS home/3-1 ATS road)
It's tough to find another team in the NFL as confusing as the Carolina Panthers. One week, Cam Newton & Co. look like NFC contenders. The next they're scoring three points in a loss to the Bears. Sure, the Panthers have had key injuries mess with their chemistry, but there are question marks all over the field. Perhaps the only consistent with Carolina is just how good a bet it's been on the road, and how terrible it's been at home. It has lost by an average core of 21.7-15 as a host and won by an average score of 21.5-18.5 as a visitor. The Panthers could be a play-on this Sunday, visiting the Buccaneers as 1.5-point underdogs.