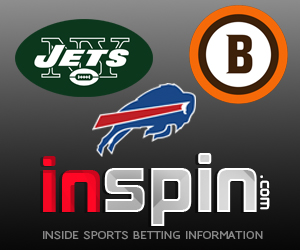 The NFL preseason is a time for teams to fine tune their playbook, work in new players and shore up starters. And there are a number of teams trying to figure out who will be taking snaps come Week 1 of the 2015 season.
Betting teams undergoing quarterback battles can often times be a profitable handicapping tactic. Unlike teams with a solid starter, who may or may not play during exhibition games, QBs in competition with each other are going all out for the No. 1 job. Here are some QB battles to bet this preseason:
Cleveland Browns
Johnny Manziel has an uphill climb when it comes to winning over the Cleveland faithful, following his disappointing rookie campaign and subsequent stint in rehab this offseason. The jury is still out on whether or not "Johnny Football" has the dedication, intelligence, and size to be a capable NFL passer. The job would look to be Josh McCown's, who comes over from Tampa Bay. He's shown brief flashes of brilliance during this pro career and would seem like the safe choice. But safe doesn't sell jerseys. Cleveland opens the preseason at home to Washington.
New York Jets
There are big expectations for the J-E-T-S this upcoming season and with the addition of WR Brandon Marshall, whoever wins the starting gig will have a go-to target. Geno Smith is the leader in the club house, with an edge over veteran Ryan Fitzpatrick. However, the preseason will be the real decider for New York's QB battle. Smith often found himself stuck between being a dual threat and a pocket passer last season, which led to a league-worst 47 sacks from the Jets offensive line. Decisiveness will win this job. New York kicks off the exhibition slate in Detroit.
Buffalo Bills
Staying in the AFC East, the Bills have a real pickle on their hands when it comes to who will be the Week 1 starter. The franchise doesn't want to pull the plug on E.J. Manuel just yet, but the rumors coming out of upstate New York are that Manuel may be No. 3 on the depth chart behind Tyrod Taylor and veteran Matt Cassel. Could this just be a clever motivational ploy by new head coach Rex Ryan in hopes of lighting a fire under Manuel? Football bettors will find out when the Bills open their preseason slate versus Carolina at home.