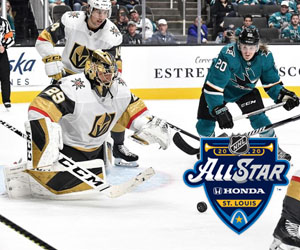 The NHL schedule enters its All-Star break put the action on ice for a few days. That make it a perfect time for top sportsbooks to catch up on the odds to win the Stanley Cup, sizing up the favorites and finding any potential longshot value on the NHL futures board.
Tampa Bay Lightning +600
The Lighting are second overall in Atlantic Division at the All-Star break, putting up 62 points in the first 48 games. Tampa Bay has a balanced blend of scoring and defense, ranked third in goals per game with 3.6 a night and ninth in defense, giving up only 2.9 goals against.
The special teams have really fueled the Bolts in the first half of the schedule with a power-play attack that sits second best in the NHL at 27.5% and a penalty kill that is allowing opponents to score on just 83% of their man advantages. The Lightning have good depth as well, with players like Nikita Kucherov and Steve Stamkos making Tampa Bay a tough team to lock down.
Boston Bruins +800
If you think the Bruins hold value to get back to the Stanley Cup final, now might be a good time to snap up their NHL odds. Boston is actually ahead of Tampa Bay in the Atlantic Division table, with 70 points in 51 games, including a sterling 17-2-4-5 record at home.
The Bruins, much like the Lightning, have solid two-way play putting them among the NHL's elite. They rank seventh in scoring with 3.3 goals per game while holding opponents to just 2.5 goals against – third lowest in the NHL. Their special teams have also shown, sitting No. 3 in both penalty kill and power play. There were some injury concerns to the blueline entering the break and goaltender Tuukka Rask is recovering from a concussion but could return toward the end of the month for the B's.
St. Louis Blues +800
The defending Stanley Cup champs are tops in the Central Division, picking up where they left off last spring. The Blues have 68 points in 49 games and have also been a tough team to beat on home ice, with a 17-4-2-2 record in St. Louis. The Blues have battled early injury woes but should gain some key depth back for the stretch run before the playoffs.
St. Louis is sound defensively, allowing just 2.6 goals on less than 31 shots against per game so far in 2019-20. And while the offense isn't piling on the goals like the other top Stanley Cup contenders, averaging 3.2 goals per game, the power play has been extremely efficient with a success rate of 25.3%. Jordan Binnington and Jake Allen make up one of the best combos in the crease and another run to the Cup final is very possible.
Other notables:
Washington Capitals +1,000
Colorado Avalanche +1,200
Dallas Stars +1,200
Pittsburgh Penguins +1,200
Vegas Golden Knights +1,200
Arizona Coyotes +1,600
–