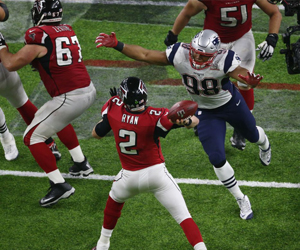 The Atlanta Falcons face a tough test when they host the red-hot New England Patriots on Thursday Night Football. New England has won four straight games and they're just a half-game behind Buffalo in the AFC East while Atlanta has lost two of their last three contests.
Here's a complete preview, including betting odds and free NFL picks.
The Patriots opened at -7.5 at BetOnline and over at FiveThirtyEight, they have them at -5.
FiveThirtyEight gives the Patriots a 67 percent chance to win. For support, we turn to USA Today's Jeff Sagarin's projections; he has New England at -7.31using his Rating numbers and at -6.71 using his eigenvector analysis.
This leaves a 2.5-point gap between the FiveThirtyEight projections for the and the actual NFL odds for the Falcons.
Is Atlanta catching too many points at home?
Patriots quarterback Mac Jones is coming off his best game of the season, leading the team to an impressive 45-7 home win against the Browns after completing 19 of 23 passes for 198 yards and three touchdowns. He did this against a fearsome pass rush and good secondary and he'll be full confidence on Thursday.
Atlanta got blown out 43-3 at Dallas, giving up 29 points in the second quarter. That kind of implosion can't happen against a team like New England.
The Falcons will miss Cordarrelle Patterson, who sprained his ankle sprain on Sunday and blew their entire offensive plan out the window. With Patterson out, it will be up to rookie tight end Kyle Pitts to move the ball, as players like Mike Davis and Wayne Gallman have been underwhelming.
Inspin.com has a



2-star pick on this game. Click here to sign up!
The INSPIN simulation model, which simulates every NFL Football game thousands' of times, is up +38.5 units over the last three years. We have released 388 total games with 209 WINS and 179 losses ATS for a win % of 53.87%. A $100 bettor of our NFL would have netted a profit of $3,850 and, a $1,000 bettor would have won $38,500 just on the NFL picks. Now is the time to sign-up and start winning.
| Title: Patriots vs. Falcons Thursday Night Football Picks for NFL Week 11
| Author: Eduardo Solano
| Date: Nov 17, 2021