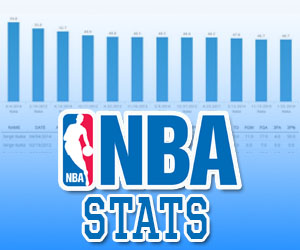 Analytics have taken over sports betting strategies this past decade, with more and more handicappers turning to advanced stats to find their edge against the oddsmakers.
While having a complex computer model may work for the MIT egg heads and pros in Las Vegas, the casual bettor doesn't have the time or the know how to crunch all this data. But that's not to say that the Average Joe can't use analytics to help boost their backroll.
If you're betting on NBA basketball this season, there are a number of statistical categories out there that can help you cap the nightly matchups and find value in the odds. Our sports betting articles will help you find that value.
Pace of play
Pace is probably the first stop for stats hunters when handicapping NBA totals. Part of the "Hollinger Stats" that measure offensive efficiency – named after former NBA analyst and current VP of Basketball Operations for the Memphis Grizzlies John Hollinger – pace is basically the number possessions a team averages in a game.
Teams that push the tempo with a faster pace and shoot early into the shot clock naturally boast more possessions per game. Teams that like to slow down the rate of play and milk the shot clock before a field goal attempt have less possessions per game, and therefore a slower pace.
Total bettors can easily figure out if a matchup will be fast or slow paced, or if there are contradicting styles on the court. That can help point the way as you close in on an Over/Under bet, as bettors discover which team will dictate the pace and how many points will be scored because of it.
Effective Possession ratio
Now that we know how many possessions a NBA team averages, we want to know how many of those trips down the court result in points. This stat can show us which teams are good and bad shooting from the field, and also which teams protect the basketball compared to those that turn it over.
Often times, playing a quicker pace – more possessions – can result in rushed shots or careless passing. And on the contrary, a slower pace should lead to better shots and less turnovers. But basketball bettors can key in on which teams make the most of their time with the ball.
With this effective possession ratio, you can spot any anomalies to these categories and find teams that play fast but controlled or teams that play slow but sloppy. Analyzing those teams and their nightly matchups is a great way to find value against the spread and with the betting total.
Second-chance points
This stat is pretty basic compared to some of those more advanced data sets, however, it is very handy when looking at how a team scores its points and if it can continue that success versus their current opponent.
Second-chance points are primarily generated by offensive rebounds, so you will often find the teams with plenty of second-chance buckets hit the glass hard as well. Those second-chance points can inflate a team's offensive numbers and when they run into a solid defensive rebounding team or even one with a bigger frontcourt, those additional looks at the basket just aren't there.
These clubs relying on second-chance points can often struggle to find offense outside of those putbacks, and are more susceptible to injury impact if a key member of their frontcourt is out of action. Second-chance points can also be measured against field goal percentage, leaving handicappers to question whether a team gets plenty of second-chance points because they rebound well or because they simply miss a lot of shots?