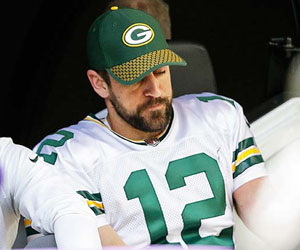 Injuries are always an issue when the NFL schedule gets this deep, but it seems like every week one or two NFL teams are losing a key player. And there's no position more important than quarterback. Numerous offenses have been disrupted with an injury under center and these teams below will be impacted by ailments at QB in the home stretch of the season.
Carson Wentz, Philadelphia Eagles
Wentz going down with a torn ACL might have been the only way to slow down the Eagles, who soared to the top of the NFC with a huge win over the Los Angeles Rams in Week 14. The second-year passer was the front runner for NFL MVP, completing 60 percent of his passes and connecting on 33 touchdowns with just seven interceptions. Now, with Wentz done for the remainder of the season and playoffs, Philadelphia leans on backup Nick Foles.
The Eagles must overcome this massive blow on the road in Week 15, but should still be able to take down the New York Giants as 8-point favorites. Following that, they play the final two games at home: to Oakland and then a big season finale versus the Cowboys, who could be clinging to their playoff lives in Week 17. Foles was steady in his limited action once Wentz went down, connecting on 6-of-10 passing for 42 yards. However, he's nowhere near as potent a passer as Wentz and doesn't have that same ability to keep drives alive with his legs.
Marcus Mariota, Tennessee Titans
It was revealed after the Titans' loss to Arizona that Mariota had been playing on a sprained knee. Perhaps that's why he finished Week 14 going 16-for-31 passing for just 159 yards and two interceptions – or maybe that was just Tennessee making excuses for a bad day at the office. If Mariota is nursing a bum knee, it very much changes the dynamic of this offense. Mariota is a dangerous passer when flushed out of the pocket and is able to keep plays alive where other QBs may get caught in the pressure. Behind Mariota on the depth chart is veteran Matt Cassel, who was very passive in his one start this season.
Tennessee is chasing Jacksonville for the AFC South title and is currently on pace for a wild card spot. The Titans should be able to sneak past the San Francisco 49ers on the road as 2-point chalk in Week 15, even without Mariota at 100 percent – or even on the field. After that, things get much tougher for Tennessee, taking on the Rams and Jaguars at home in the final two games of the year. Mariota may want to sit this week out in order to stay healthy for the home stretch and beyond.
Aaron Rodgers, Green Bay Packers
It's not all bad injury news across the NFL. The Green Bay Packers may get their star quarterback back in Week 15 after losing Aaron Rodgers to a broken collarbone way back in Week 6. While there hasn't been any official news on Rodgers' status for this Sunday's game against the Carolina Panthers, he has been practicing and just needs medical clearance for the green light. Oddsmakers have the Packers set as 3-point underdogs in Carolina – a very conservative line considering Brett Hundley is going up against a vaunted Panthers pass rush.
Should Rodgers return, you can expect this line to swing near a pick'em. The Cheeseheads are not out of the playoff hunt – a big reason why Rodgers could return. A win in Carolina would set the stage for some classic A-Rod dramatics, with Green Bay going up against Minnesota and Detroit in the final two games.
Make sure to check our live odds comparison for updated lines on all the above quarterbacks and teams.