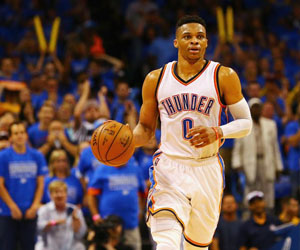 The NBA season is almost a month old and some teams have stumbled out of the blocks, falling short of expectations. Thankfully, at least for them, there's a lot of schedule left to be played, which means basketball bettors who can spot these turnarounds can make some expert sports betting picks before the markets adjust.
We look at two NBA teams that aren't playing up to snuff, dive into why, and when NBA bettors should expect them to snap out of these early-season funks:
Oklahoma City Thunder(7-8 SU, 7-8 ATS)
If you've followed the formation of recent "super teams", you could have seen the Thunder's growing pains coming. Oklahoma City went out and added superstars Paul George and Carmelo Anthony to a team that was driven by reigning MVP Russell Westbrook. These are three players that are used to having the offense revolve around them and OKC has struggled to figure out who will be the No. 1 option in the first month of the season.
The Thunder are averaging just under 103 points per game with George averaging 21.6 points, Anthony putting up 20.1 ppg, and Westbrook scaling back his scoring efforts from 31.6 points per game to just 19.9. That's almost 60 percent of the team's total offense coming from those three sources. The offense has been disjointed, shooting poorly from the field and knocking down just 35 percent of their 3-point looks. There are also turnover issues, with OKC coughing up the ball 14.8 times per contest while generating an average of only 21 assists.
As we've seen with these star groupings in past seasons, they take a while to click and figure out each other's role. Someone will take a step back – and honestly, it shouldn't be Westbrook. This team is at its best when he's driving and creating opportunities. As we see Westbrook's production increase, so should the Thunder's stock against the spread.
Milwaukee Bucks(8-6 SU, 6-6-2 ATS)
There were lofty expectations for the Bucks this season, especially with all the talent jumping ship from the Eastern Conference to the West. Milwaukee was instantly upgraded to an Eastern contender and do-it-all forward Giannis Antetokounmpo was among the front runners to win MVP. The "Greek Freak" continued to carry the team, leading the Bucks in scoring, steals, rebounds, and blocks, but it wasn't enough to get over the hump.
Milwaukee has opened the year with some early challenges, already playing Eastern powers Cleveland and Boston twice – going 1-3 SU and 1-2-1 ATS – while also matching up with San Antonio and Oklahoma City in non-conference contests. Things are on the up-swing, however, thanks in larger part to some savvy front office moves and exploiting a rotten situation for one NBA teams. The Bucks traded for disgruntled Phoenix Suns guard Eric Bledsoe earlier this month and hasn't lost since the dynamic point guard joined the roster.
Milwaukee is 4-0 SU and 3-1 ATS with Bledsoe, getting 13.3 points and 5.5 assists per game – much-needed scoring depth in a shallow backcourt. Milwaukee has an upcoming Western road trip against bottom-tier teams, such as Utah, Phoenix (Bledsoe's return), Sacramento, and Portland. There will be solid line value with the Bucks, and they'll only get better as Bledsoe settles into his new role.