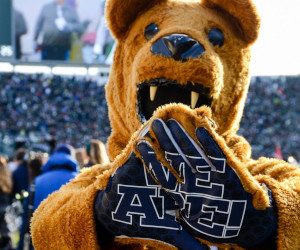 College football rolls into Week 2 of the schedule with plenty of question marks around some of the country's top programs. Here's a look at those troubling teams and their NCAA
football odds
for Week 2:
Penn State Nittany Lions (-9 at Pittsburgh)
The Nittany Lions got the crap scared out of them in Week 1, barely avoiding an upset at the hands of known-Cinderella shocker Appalachian State. Penn State's vaunted defense allowed 38 points and needed overtime to squeak out the win, pointing the fingers at poor tackling and the fact that they allowed 28 of those points in the final frame. Was it poor conditioning or a lack of focus against a lower-tier opponent? Or is this team not as good as we think?
Bettors may get their answer Saturday, when PSU visits state rival Pittsburgh. The Nittany Lions opened at 9.5-point road chalk and that line shrunk to -9 with early money showing up on the home underdog. The Panthers squashed FCS foe Albany 33-7 in Week 1 but failed to cover as 26.5-point faves. Pitt does have some similar weapons as App State, with a dual-threat QB in Kenny Pickett and a shifty running back in Qadree Ollison, but the gloves may be off for PSU after such a scare and anything under double-digits looks pretty good to Penn State bettors.
LSU Tigers (OTB vs. Southeastern Louisiana)
The Tigers made a huge splash with a victory over Miami in Week 1. Louisiana State rolled the Hurricanes with a 33-17 victory as a 3-point neutral-site pup in Arlington, Texas – catapulting LSU up the Top 25 rankings and putting a good dent in the Tigers' CFB Championship futures as well. However, after such a bright shining moment comes some darkness: the team lost standout linebacker K'Lavon Chaisson to a season-ending knee injury last Sunday, leaving a massive gap in the LSU stop unit.
The Tigers will be able to take care of business this weekend against an FCS cupcake and while this spread won't come out closer to kickoff – if at all – Louisiana State will likely be a monster favorite. The big question comes after, with a trip to Auburn in Week 3. Head coach Ed Orgeron will likely go with a vanilla playbook as to not tip his hand before taking on the "other" Tigers next week, so there could be value going against LSU – in a letdown spot – in Week 2.
Michigan Wolverines (-28 vs. Western Michigan)
The Wolverines were setup with a big chance to step up the national food chain in Week 1, visiting the Notre Dame Fighting Irish. However, Michigan's offense once again failed to hold up its end, scoring just 17 points and finishing 6-for-13 on third-down conversions and 0-for-3 when going for it on fourth. Quarterback Shae Patterson failed to connect for a touchdown and threw an interception in the loss, leaving many to question his role as the team's top passer.
Head coach Jim Harbaugh, who should feel his seat warming up just a little, praised Patterson for what he did right in the Notre Dame game and will stick with the Ole Miss transfer for Week 2's matchup with Western Michigan – a serious drop in intensity for this program. Oddsmakers opened Michigan at -24.5 and this line has shot up to Wolverines -28. The Broncos opened their season with a busy 55-42 loss to Syracuse at home, trailing 34-7 at the half then outscoring the Orange – and many of their backups – 35-21 in the final two quarters. There's plenty of speed on this WMU team, and if Michigan gets caught in a letdown spot, Harbaugh's chair could go up a couple of degrees by Sunday.