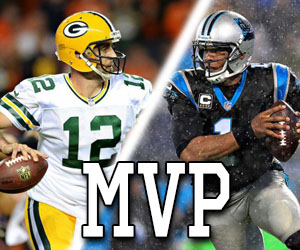 When Philadelphia Eagles quarterback Carson Wentz went down with a torn ACL two weeks ago, not only did the Eagles futures odds in the NFC and Super Bowl get shaken up, but the NFL MVP prop market was turned on its ear.
Wentz was a runaway favorite to win MVP after leading the Eagles to the top of the NFC East. But now that he's gone, the odds have leveled off and none other than Tom Brady has emerged as the odds-on-favorite to win MVP in 2017.
Here's a sports betting article which takes a look at the top contenders for NFL MVP with just two more games left in the regular season:
Tom Brady, New England Patriots (-1,200)
It would be interesting to see where Brady's MVP futures price would have sat if the Steelers' last-minute touchdown in Week 15 would have counted. Oh well. Before that controversial play, Brady did lead the Patriots down the field to take the lead and his passing numbers are once again tops in the NFL. Brady has thrown for 4,163 yards, 28 touchdowns and seven interceptions – however, five of those INTs have come in the past four games.
Drew Brees, New Orleans Saints (+1,000)
It's tough to consider Brees a legit contender for MVP when you dive into the Saints production. He's thrown for far less and the offense is running the ball much more than previous years, switching gears from 63.44 percent passing plays in 2016 to just 56.12 percent in 2017. So, while he's tossed for 3,850 yards and 21 touchdowns, less of Brees has meant more to New Orleans this season.
Todd Gurley, Los Angeles Rams (+1,200)
Could a running back actually win the NFL MVP award for the first time since Adrian Peterson in 2012? Gurley would be a hell of a story, especially since many analyst wrote him off following a terrible 2016 season. Under new head coach Sean McVay, Gurley was erupted as the dominant running back and should really get a long look from MVP voters considering the Rams' 180 this season. He's scored a NFL-best 17 touchdowns and is third in the league in rushing yards with 1,187 heading into Week 16.
Carson Wentz, Philadelphia Eagles (+2,000)
Despite being knocked out for the season and the playoffs, there is still value in going with Wentz to win MVP. Not only is this a value buy, getting much better odds than his pre-injury price, but Wentz's resume is stacked enough that missing the final three games might not matter. Philadelphia thrived with him running the offense, totaling 3,296 yards through the air, 33 touchdown passes, and only seven interceptions. Should the Eagles flop in the postseason, that might only solidify Wentz's value to this team.
Russell Wilson, Seattle Seahawks (+2,000)
This bet will totally hinge on whether Wilson can drag the lifeless Seahawks to the postseason in the final two games of the schedule. He's pretty much been the entire offense for Seattle, playing behind a porous offensive line and lacking any help in the running game. The sheer fact that Wilson has been sacked only 37 times is a testament to just how lively the Seahawks QB really is. Wilson has passed for 3,669 yards while tacking on an additional 521 gains on the ground. He's passed for 30 touchdowns and ran in another three and will need to save his best for last in order to get Seattle to the tournament.
Antonio Brown, Pittsburgh Steelers (+2,500)
Brown should have gotten some serious consideration for MVP after leading the NFL in receptions and receiving yards before suffering a calf injury versus the Patriots Sunday. Now, the Steelers' top target will likely sit out the remaining two games in hopes of being healthy for the postseason. Brown has 1,533 yards receiving – averaging 15.2 yards per reception – along with nine touchdowns. A wide receiver has never won the Associated Press NFL MVP award, however, Jerry Rice did earn the Pro Football Writers Association MVP in 1987.